[x_video_embed] [/x_video_embed]
If you have any questions please leave them in comments section and I will respond personally!
I'm extremely excited to announce the release of the Intermediate Course. Let me tell you, this one was well worth the work. I did lose about 20 videos in the process that I needed to refilm. My wireless mike gave out on me. But enough complaining! It's done! And it will be available only to the VIP Email List at a special Early Bird Price!
If you are not apart of the email list click on the image below to sign up now to receive more information on the discount for this course.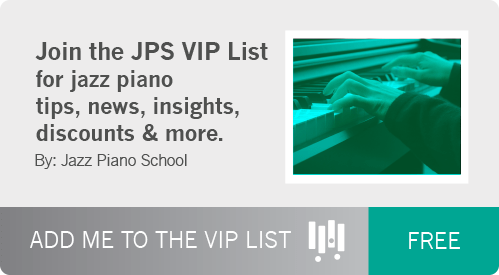 What is in the intermediate course and can it help me?
Well of course it can! The information contained in the Intermediate course is the exact material that 90% of all students need to practice in order to get better. Usually when someone comes to me for help, I end up giving them everything contained in this course and some fundamentals from the beginner course, (which you will also have access too).
Why is this content different from any other books, dvds, online courses, or private lessons?
The content in this course is the combined collection of everything I have learned at the New School University from the best professors in the world, my 15 years of experience teaching in Universities, giving masterclass', and teaching private students, as well as everything I've learned playing gigs, concerts and solo performances.
Simply put, there is literally no course out there today giving you this kind of in depth step by step, structured learning on jazz piano. I've disassembled everything into the smallest building blocks which you can learn and put together on your own to ensure you make progress.
Most resources out there are all a la carte. Meaning you sign up, or purchase your resource then are left to navigate all the information on your own! Like…what?!! How does that work?
That's like wandering through a forest at night, without a flash light, trying to find lego pieces to put together. I believe impossible is the correct word. No wonder people aren't making progress.
And unfortunately most studio's hire teachers that took one class in college on piano and are now teaching you. Crazy right?! Yes this actually happens.
Why do you think they never have a plan for you? Want to know a good question to ask your teacher to see how skilled they are? Ask them what they plan to teach you in 2 months? If they say I don't know then I would think about JPS as your best option.
Now of course there are some phenomenal teachers out there in some places, but trust me, this is very rare. Most teachers have no idea how to actually "TEACH" you how to consistently get better.
What is the JPS system?
The JPS System is a teaching method I developed through my years of experience. I needed away to combine all the informational concepts into a road map for my students to understand. I eventually landed on four categories which all fit together.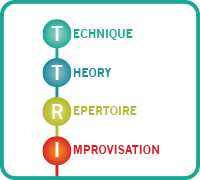 Everything in jazz piano education will fall under one of these categories and they're different components under each. If you are missing one of these categories in your jazz education then you're probably not making great progress. You might even be learning them in the improper order. This happens a lot when people learn from a slew of different resources. Youtube, books, vidoes, different teachers.
You can't but help to feel overwhelmed.
What exactly does the course consist of?
The intermediate course contains 167 videos all filmed personally by myself. A 1500 page Practice Exercise book which will be yours to keep forever. A 300 page workbook which will be yours to keep forever. A 214 page page Lesson Text Reference which will be yours to keep forever.
All of these resources are combined to help ensure you make consistent and steady progress.
There are two ways to access the materials. You can simply access the library which is what most people are used to. Search through the categories and find which topic you need help with the most.
The most popular way is to use the "Journey Option", which will tell you exactly where to start, what to practice, and what step to go to next. No guesswork, no searching, no questions. A straight forward path to success.
NEW to members is the Private Facebook Group Access. I will personally be engaging on this group to help answer questions and offer encouragement to everybody. I will be assigning experienced moderators to help out with the newer members. This way everyone is helping each other to form a positive community.
Do you have a contents list of the course?
Why, yes! Click on the image below for a complete contents list of the course.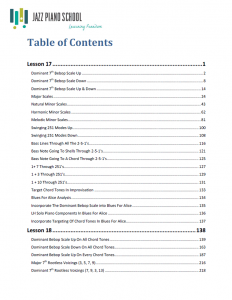 How do I know if I'm an intermediate player?
Like I said before, 90% of all people will fall into this category and if it is too advanced, you will gain access to the beginner course with the intermediate entrance. This way you can work your way up through the beginner steps and into the intermediate material.
How much does the intermediate course cost?
I'm not releasing any pricing until Saturday, May 2nd @ 10:30 which is when the Course will be live. I will tell you, anyone on the email list will be give a SUBSTANTIAL early bird discount and bonus' before I release the course to the public! So again, join the email list above to receive the discounts.
Do you have more questions?
I will personally be answering any and all questions if you leave them in comments below!
Thank you all for your constant support and encouragement. Couldn't have done it without all my followers and fans. You are all amazing!