By Joanna Sabater
Since Nancy Wilson recently celebrated her 78th birthday, we're going to learn about her life and impact on jazz. We'll also talk about some tips for playing with singers.
After winning a talent contest in High School, Wilson got her start headlining a local show in Columbus, Ohio called Skyline Melodies.  After graduating and doing two years of College, she toured with Rusty Bryant's Carolyn Club Combo from 1956-1958. This was a group led by Tenor Saxophonist, Rusty Bryant, set out of Columbus. On one of her nights off from touring in 1958, she met the great Cannonball Adderley. He heard her sing and was blown away by her style, and talent. He offered her some advice and told her she should move to New York…so she did. Within five weeks in Manhattan she had a manager and someone to produce her album at Capitol Records. Her debut album, "Like in Love (1959)" sold well and gained her more notoriety. Shortly after her debut album, she recorded a second album with Ben Webster and a third with Cannonball Adderley, both getting more sales.
The playing caliber of the musicians Wilson chooses to accompany her is something that makes her albums so memorable. "Nancy Wilson and Cannonball Adderley" is an album that I have always loved. The arrangements are beautiful, and each song flows very naturally. It almost sounds too easy! The horn players are playing alongside her and not just backing her up. She has perfect pronunciation and puts so much feeling into the lyrics. Here is one of the tracks from this album.
https://www.youtube.com/watch?v=yWQH1hFsC18
Wilson is the type of singer that can be placed into any musical situation and give a great performance. Throughout her career she's had incredible musicians to play alongside her. Many jazz instrumentalists dread having to play with singers – why do you think that is? A lot of comments that I hear are:
"She/he always forgets the words."
"She/he doesn't know the form."
"She/he back-phrases too much."
Whether the singer is experienced or is a total beginner it's the rhythm section's job (and horn player's) to make him/her sound good!
Here are some tips to having a successful gig with a singer:
Don't overplay – Don't distract from the melody! Anything you do rhythmically and melodically should make the singer sound better.
(Note: Do you want to start learning more about jazz piano in a way that's organized and structured? Are you looking for a starting point? If so, check out our FREE beginner guidebook to get the scoop!)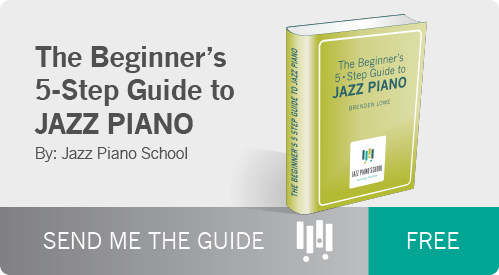 Tip #1 : Always know the melody
Knowing the melody well will help you know exactly when to fill in during rests and long notes.
Tip #2 : Know when and when not to lead
An experience singer might be able to take over the show without much help from you. A less experienced singer might need some more guidance with the tempo, count-offs, and endings.
Tip #3 – Be familiar with the singer's work
Get familiar with his/her phrasing, range, and repertoire. Knowing the singers tendencies with be very beneficial to having the most successful performance possible.
Working with singers can provide you with a number of musical benefits. Your phrasing will get better and you'll probably learn the lyrics to a lot of songs. Always have a positive attitude when going in to a gig with a singer. The audience will enjoy the show more and so will you!
Tip #4 – Play simple
Don't play really complicated comping rhythms, or get too abstract with the harmonies if you're unfamiliar with the singer's style. Stick to playing the harmony that's written, and rhythms that really help the music groove. As you get more comfortable comping behind a singer, and the music calls for it, then you can start playing more complicated lines.
Tip #5 – Rehearse!
It's a good idea to rehearse with the singer before a gig. This way you can create a set-list, practice how you're going to start and end your songs, and get comfortable with one another's styles. The more you've rehearsed, the better you'll sound during the gig. Even if you don't have a gig coming up, it's a good idea to find a singer that you like playing with, and jam every once in a while. If it's a duo gig, it's especially a good idea to rehearse because of how much more exposed everything you play is going to be.
(Note: Don't forget to snag your FREE copy of our beginner guidebook! This is a must-have if you want to start learning jazz piano!)