[content_band inner_container="false" class="mas" border="none, top, left, right, bottom, vertical, horizontal, all" padding_top="0px" padding_bottom="0px" bg_pattern="" bg_image="" parallax="true" bg_video="" bg_color="#EAEAEA" bg_video_poster=""]To make our solo's sound good we need to be able to connect the chord changes smoothly in our right hand. This means hitting chord tones on down beats without having to think about it. The ability to play these chord tones on down beats as the chords are changing will allow our solos to reflect the harmonies perfectly. We want to practice this very slowly at first until we build up our spontaneous flow. This is not something you will be able to go fast with. If you do you will hinder your learning of this skill set.
Bullet Points
1. Practice connecting your chord tones slowly through 2-5-1's. (Use Exercise #1 continuous eighth notes.).
2. Practice connecting chord tones slowly through 2-5-1's with your own spacing and rhythms. (Use Exercise #2).
3. Practice your 2-5-1's through out all the keys and in all tempos.
Connecting Chord Changes In Your Solo
[x_video_embed type="16:9″][/x_video_embed]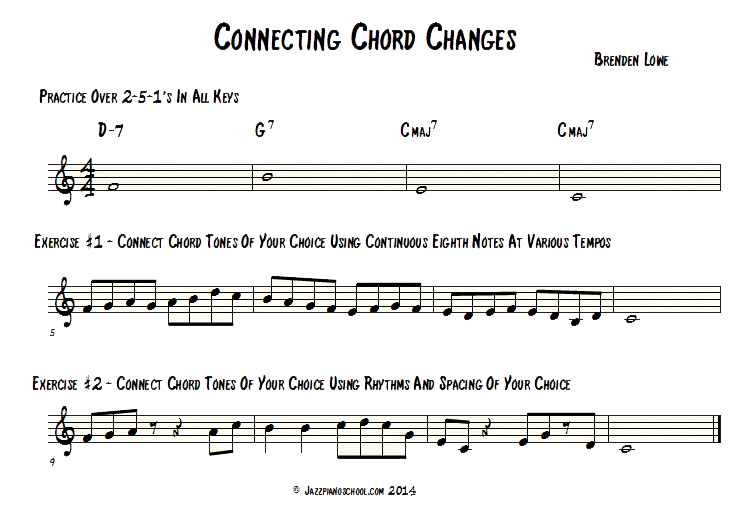 If You Enjoyed This Episode…
Please share it! All you have to do is click on one of the buttons below.
Also if you wouldn't mind leaving a review in itunes. It only takes a second to help the show increase in the rankings!
Thank you for all your support!