[content_band inner_container="false" class="mas" border="none, top, left, right, bottom, vertical, horizontal, all" padding_top="0px" padding_bottom="0px" bg_pattern="" bg_image="" parallax="true" bg_video="" bg_color="#EAEAEA" bg_video_poster=""]Finally I talk about how to actually play charts. I know someone of you are like "FINALLY!". In this episode I talk about reading chord changes, how to decipher how many beats per chord change and what slash chords are. There is a lot more to playing pieces, but this is the first place to start in which you will actually be able to hear the harmonies of the piece. I guarantee it will make you feel pretty good to be able to hear the tune!
Playing Charts KPI's ( As my old corporate boss used to say. Key Point Indicators)
Look for the chord symbol, is it major or minor? Play and inversion of the chord.
Play the chord for either 4 beats or 2 beats.
RH plays chord, LH plays roots, ( bass notes).
Voicelead inversions
Sorry on the podcast I said it was a chord per bar! I made a mistake though, the first two chords are in the first measure, the last chord is in the second measure by itself.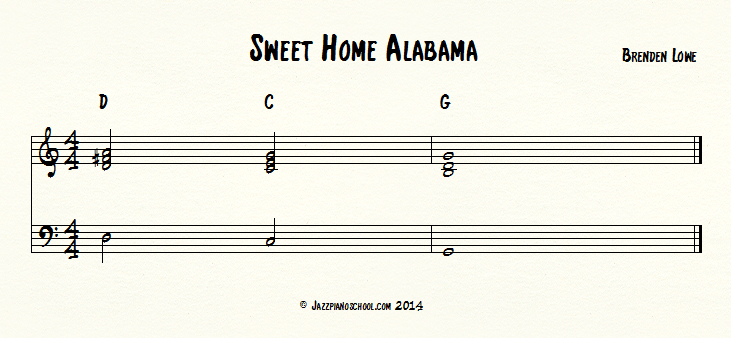 If You Enjoyed This Episode…
Please share it! All you have to do is click on one of the buttons below.
Also if you wouldn't mind leaving a review in itunes. It only takes a second to help the show increase in the rankings!
Thank you for all your support!
(Note: Do you want to start learning more about jazz piano in a way that's organized and structured? Are you looking for a starting point? If so, check out our FREE beginner guidebook to get the scoop!)