Improvisation is one of the best parts of jazz. It allows people to express themselves how ever they like. You learn a lot about yourself when you are asked to spontaneously make music. You can create whatever you like. Lot's of musicians will tell you it's like therapy. You're girlfriend or boyfriend break up with you? Nothing like playing a heart-filled ballad to release some of those emotions. Just get a new job you absolutely love? Those swingin' medium tempo tunes should be perfect to let people know how happy you are. No matter how you are feeling, improvisation is one of the key components of jazz and the most fun. Let's dive in!
What is improvising?
Improvising is when you are spontaneously creating music. There are structures and systems we use, but in the moment everything is made up. You can think of it as having a conversation with someone. Even though you haven't planned out what you are going to say to someone, you are creating sentences to talk with them. You have learned how to speak before, and during the conversation can respond appropriately with sentences that fit the conversation. This is similar to improvising with a trio, or larger group, even if you're playing solo.
How do you know what notes to play?
Great question! The notes we play fit the harmonic changes within the tune we are playing. So in a sense it's not completely random. Just like when you are having a conversation. You are talking about a certain topic. The harmonies, (chords), and structure of the tune, (how many measures), are like your topics of conversation. You speak by playing over these topics. For example let's say you are playing over a C major triad. When we improvise we're choosing notes that relate to the C major triad. This way it reflects the harmonies of the tune. If you are choosing random notes then you won't exactly be playing over the tune.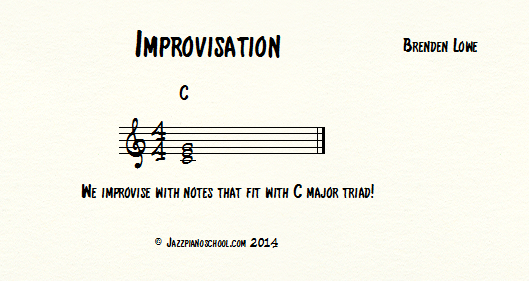 So what notes do I use for what chords?
This is where our diatonic harmony and modes come into play! If you haven't read those posts yet I highly recommend it. In order to play the correct notes that match the harmony of a chord we need to first analyze how the chord fits into the tune. We do this by looking at the chord and seeing what the next chord is in the progression and sometimes even what the next chord after that is. It's very similar to analyzing a sentence. How would you find out what the nouns and verbs are in a sentence? You need to see how they fit within the sentence. If we are playing a tune and it is in the key of F, and we know this by looking at the key signature, and the first chord in the tune is an Fmajor7 chord, then we can conclude that this is a Imajor7 chord. Easy enough right. It gets a little bit harder but that is the basis of chord analyzation. Since we now know the Fmaj7 chord is I major 7 chord, we simply match this up with our diatonic harmony, and play the corresponding mode that matches up with a I major 7 chord. Do you know what mode it is? The ionion mode, or simply the F major scale. So when improvising over this chord we can play any notes from the F major scale.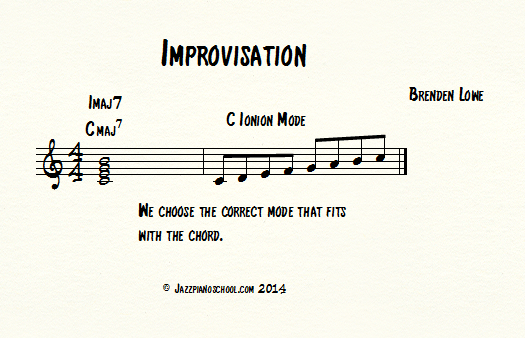 (Note: Do you want to start learning more about jazz piano in a way that's organized and structured? Are you looking for a starting point? If so, check out our FREE beginner guidebook to get the scoop!)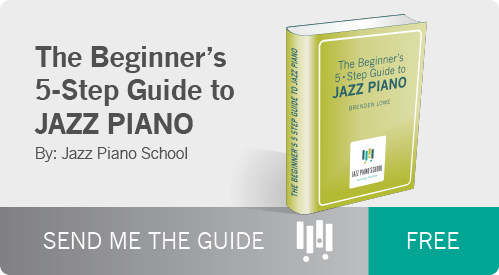 Isn't there any easier way to start?
Glad you asked, and yes absolutely. Analyzing chord changes and syncing the chords up with the correct modes is more intermediate playing. I've found that the blues is the best way to get used to improvising with certain notes over chord changes. The blues is a very simple form that only has three dominant chords you need to learn. You can see those below. Now your blues scale is also pretty easy to learn and contains 6 different notes. You can use any of these 6 different notes to begin to improvise and sound great! To teach you the blues scale so you can find it in all keys, I'm going to adapt the major scale. For example in the key of C we are going to play 1, b3, 4, #4, 5, and b7. These are the adaptions we are going to make to the major scale. So the notes we come up with are C, Eb, F, F#, G, and Bb. We don't play any other notes from the C major scale, we just play the degrees I just listed and base them off of whichever major scale you would like to play the blues scale from. If you want to play in the key of F you would use those degrees from the F major scale. Same for any other keys.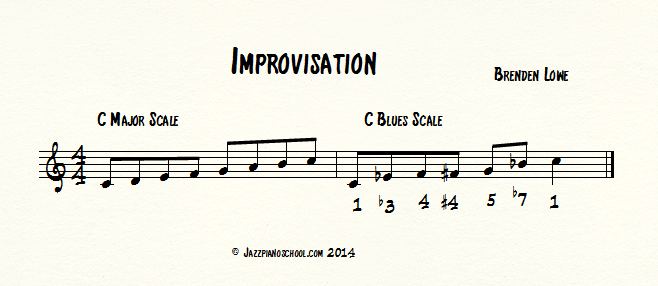 How exactly do I use these notes now?
So here is how we're going to use the notes. Your right hand should definitely practice this blues scale alone first in one key so you become familiar with the notes. Practice the scale up and down in key of C for example. See if you can rhythmically swing the scale. If you're not sure what this read my previous post here. How To Swing Once you know the notes well, you can begin to improvise! Don't worry about combing your left hand with your right hand just yet. Noodle around with the notes and play whatever you want to play. Use the different sounds to create melodies. I guarantee you will feel a little uncomfortable but listen, that is completely normal! You are the one in charge! You are creating your own music! You can't make mistakes! Let me repeat that…THERE IS NO WAY FOR YOU TO MAKE MISTAKES!! That's the best part of jazz, is everything is your own creation. I'm simply giving you tools to write your own novel, or create your own story. Whatever you want to use this blues scale to create is completely up to you.
Ok so how do I make it sound like actual music?
In order to make it sound a little better you'll want to add the harmonies underneath your right hand. This will simply be your three left hand dominant chords. The harmonies will provide support for the melodies you are creating in your right hand. All you're going to do is play each chord on the down beat of 1, of the measure of the chord. You don't need to play any rhythms or complicated patterns. Just the chord when it comes up. Once you feel comfortable doing this you can continue to improvise using the blues scale in your right hand. Now you're officially playing the blues and improvising! Congratulations!
Conclusion
So that's it. Use the blues scale with the blues to begin experimenting with improvisation. It's a great texture that I still use a lot in all of my solos. This learning will serve you a lifetime. The biggest obstacle you will encounter when attempting these exercises will be yourself. You'll feel as if you're not doing it correctly or you'll think it sounds like crap! Don't worry about it! Just have fun and play around with everything! This isn't classical music remember. We're not playing exact notes on a page. This is what freedom feels like. The freedom to use notes and make up whatever you'd like and create music. The freedom to make mistakes. The freedom to grow and expand. The freedom to get out of the box! Once you've experienced a little taste of this freedom you'll never want to go back! I promise! Enjoy!
If You Enjoyed This Post…
I would really appreciate it if you could like our facebook page and or share this post!
[widgets_on_pages id="3″]
[Tweet " Check it out to see how it is done! #jazzpiano #jazzpianoschool"]
Feel free to subscribe to our email tips and bonus content. Simply click below.
(Note: Ready to start your jazz piano journey? Don't leave without your FREE copy of our beginner guidebook!)