Most people gravitate towards jazz because of the rich colors and sounds that come from the music.
We all want to be able to play those amazing sounding chords on the piano. How do we do it though?
I'll tell you right now. Extensions. Extensions are the colors that allow you to spice up your playing and start to paint the music however you'd like.
Extensions are the beginning of the road to freedom in music. Just as a painter paints with his colors, a jazz musician paints with extensions.
Let's get into it!
Bullet Points
1. Major 7th Chord beginner extensions – 9, #11, 13.
2. Dominant 7th chord beginner extensions – b9,9,#9, #11, b13, 13.

3. Minor 7th chord beginner extensions – 9, 11, 13.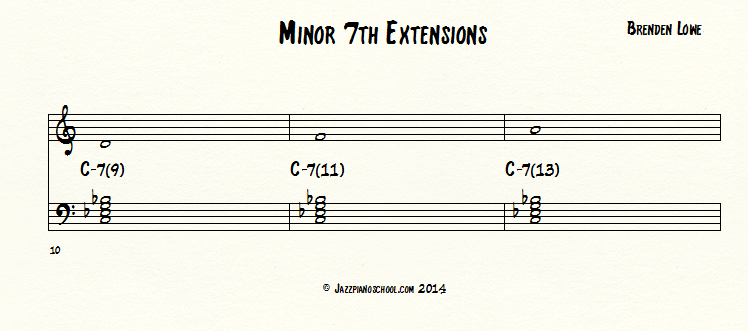 4. Practice each extension over each type of chord through the circle of four.
If you have questions or suggestions for a podcast lesson you would like us to do, please leave them in the comments down below.
If you enjoyed this episode…
Please share it!
All you have to do is click on one of the social media buttons at the top of this page. 
Also, if you enjoy all the free jazz piano education we release on a weekly basis you can show your support by giving the podcast a 5 star rating in itunes. 
Click  Here To Give 5 Star Review In Itunes!
Once you get to itunes simple click on the 5 stars to the left to give a rating. 
We appreciate your support!