LOTD 104 - Oscar Peterson Meets Louis Armstrong
Oscar Peterson Meets Louis Armstrong, "You Go To My Head"
Well this one just gets me. Man oh man what a beautiful line for a ballad. Oscar starts off going down the Bb7 dominant bebop scale but uses a triton sub for the Bb7
turning it into an E7 which makes the G# the 3rd. He then proceeds up some chord tones, the 5th, 7th and 9th to a nice 3rds interval pattern at the top and finally resolves
to Eb. Stunning line.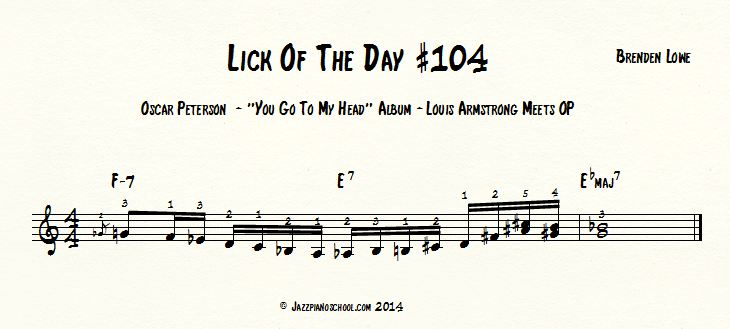 LOTD 103 - Short Dominant Lines
This small dominant line is used a great amount. The out lines the C7 chord tones up to the b9. Once you get to the b9 you can resolve down to any chord tone of your maj7th chord. The b9 is the important note as it creates a small amount of tension which is followed up by a release.