By David Hazeltine
I was 11 years old when after 3 years of basic music instruction, I began my weekly lessons with Will Green, a very accomplished blind, Jazz pianist and organist. His style of teaching was completely hands on, meaning he taught me exactly how to play tunes with precise voicings and bass notes, including what to play for a solo. It was easy for me to duplicate and remember everything he showed me, because it all sounded so good. In fact, I learned how to sound good enough to land a steady Friday and Saturday night solo gig in a club, at the age of 13. It was during that time that I realized the significance of understanding exactly what I was playing, so that I could eventually create my own arrangements and solos.
Shortly after that, I began transcribing solos, and then discovered Bird. I'll never forget my sense of excitement and pure joy in identifying the source of modern Jazz, and trying to decipher the language of Bebop. I approached learning this language in the same way that I had learned from Will Green; I learned to play Charlie Parker's solo's note for note by listening to his records, and later analyzed and made exercises out of what I thought to be his musical vocabulary.
In much the same way, I studied the harmony of my favorite pianists. Through learning and studying their voicings and substitute harmonies, I inadvertently developed a good ear for hearing chord changes and determining song forms. In fact I remember how happy Sonny Stitt was, that he could teach me tunes during the breaks of a gig, just by playing the melody and one improvised chorus on the saxophone.
Becoming a successful Jazz pianist requires a multitude of skills. Probably the most important yet under prioritized by young aspiring pianists, is the ability to accompany or "comp" behind a singer, a horn solo, or the melody of a tune or arrangement. The ability of a pianist to be a good accompanist and make the band "feel" great, is much more of a determining factor in who get's the gig and who doesn't, than any other aspect of his/her playing. Being a good accompanist means not only being an expert in voicings and modalities of harmony, but being an expert in time, swing feel, and rhythmic patterns.
But successful pianists need to be solo, duo, and trio players as well, which means that they're responsible for playing the melody of the tune, ideally with a well thought through arrangement. The late great pianist Cedar Walton spoke to me many times about the importance of the presentation of the music. He felt that presenting the audience with a worthy arrangement of a tune is crucial to their acceptance of any improvised solos.
I believe that Jazz is a language that can be learned in the same way that foreign languages are learned, emphasizing listening and copying. In other words, you do it before you know what you're doing. In this way, you first work on the sound, the feel (swing), the syntax, and the grammar, simply by using your ear, just like a child originally learns to speak. The creation and understanding of the "rules" is done in retrospect to assist you in advancing your fluency, originality, and expressiveness.
(Note: Do you want to start learning more about jazz piano in a way that's organized and structured? Are you looking for a starting point? If so, check out our FREE beginner guidebook to get the scoop!)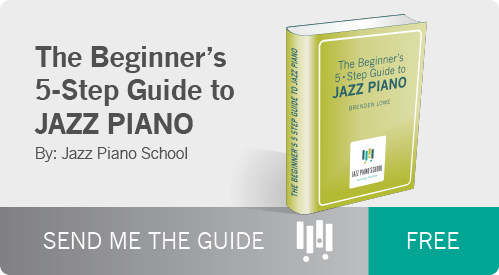 One of the big differences between spoken language and the language of Jazz is that spoken language has been around for thousands of years, and the rules governing every language have evolved and been clearly defined over time. Jazz music being relatively new, has not been around long enough for universal agreement on what constitutes the rules of the language. Therefore, it is the Jazz students responsibility to determine (on their own or with the help of a teacher), what constitutes the real language of Jazz.
A thorough education in Jazz must include the listening/copying aspect of language learning, followed by an understanding of what's been copied, and a method for implementing the practice of that understanding. As a Jazz educator for over 40 years, I have created and applied with great success, various versions of the Copy / Analyze / Implement method.
My new website jazzpianomastery.com teaches pianists how to re-harmonize and play standards in the style of a real Jazz pianist. With written score's and video's of me playing each tune, the student learns to play the piece exactly as I would play it, followed by lessons in why I did what I did, and harmonic exercises to practice, so that the student can apply the same principles to their own re-harmonizations.
There is also a new book available through Jamey Aebersold called "A Practical Approach To Jazz Improvisation, The David Hazeltine Method", written by Ben Markley. This book discusses in great detail, how and why I constructed practice exercises or etudes, based on my transcriptions of Jazz masters, and I believe it is a must have for anyone who has done transcription work and then asked "now what"?
Please visit the personal site: http://davidhazeltine.com
Please visit the educational site: http://jazzpianomastery.com
(Note: Don't forget our FREE guidebook to learning jazz piano! This is a great place to start learning jazz piano and we don't want to see anybody miss out on the opportunity!)