Structured & Organized Jazz Piano Education Has Arrived...
With Jazz Piano School Monthly+
Get MONTHLY access to our 600+ to our Main Course Curriculum & Lab Areas which includes all future updates, course additions & add-on's, private JPS community access, and support from our trained jazz piano professionals as long as you are a current monthly member. 
JPS Monthly Plus Gives You Access To...
Our Biggest, Baddest, & Most Popular...
Jazz Piano School's Main Course Curriculum is Perfect For All Levels Looking To Achieve Jazz Piano Freedom With Structure, Organization & A Solid Plan.
(Built for homes, schools & studios around the world.)
Finally Follow A Clear, Organized, and Structured, Step-By-Step Road Map To Achieve Jazz Piano Freedom
Without guessing at what to practice, feeling embarrassed, insecure, searching endlessly for the information you want, and without wasting your time.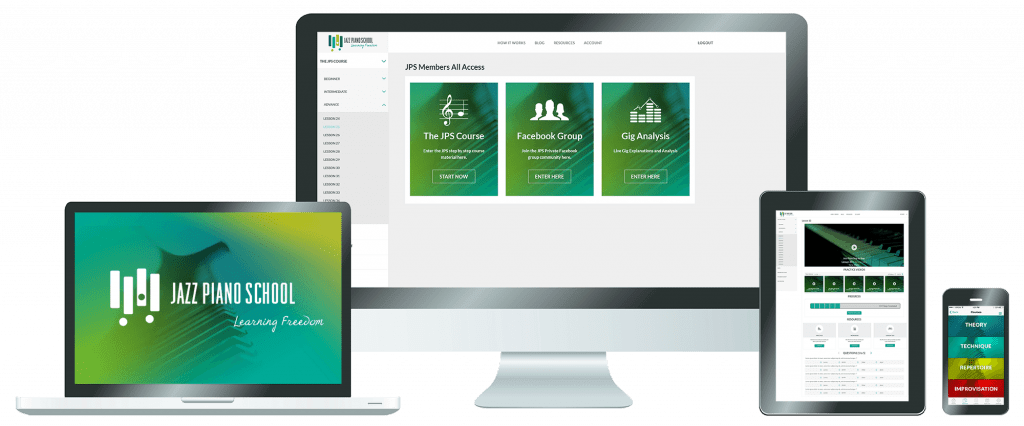 It doesn't matter if you're BRAND new to jazz piano with NO prior lessons, or have been taking lessons for 15+ years like I had…The JPS Main Course Curriculum™ is built to give you a solid foundation, fill holes in prior education and ensure you break through your current plateaus and sticking points so that you…
Achieve Your Dream Of Jazz Piano Freedom
(HINT: The plan looks something like this...)
Let's face it…most people will tell you learning jazz piano is a crap shoot. 
Some might say you either have it, or you don't.
There was a time when jazz piano taught by just showing and copying. 
Basically, "Watch me then you copy me and try it" method. 
If you've tried learning jazz piano then you have without a doubt used this method!
Whether you're taking lessons, watching youtube videos, or reading books I'm sure you've might have slightly realized that this "Watch me then you copy me and try it" process has simply just…
…NOT WORKED.
This old school process is kinda like dumping a puzzle on the ground and trying to put it together…
…without a picture on it. 
Yeaaa…not going to happen.
There's NO plan, NO system, NO road map, and thousands of general tips of advice.
Like having hundreds of keys, but no clue what doors they go to. 
Unfortunately, this was my experience too, but luckily I made a discovery and created a
NEW way of learning jazz piano that allowed me to achieve jazz piano FREEDOM.
How you might ask?
Well…
FACT: Students Need A Clear Structured Plan To Follow That Contains Jazz Piano Tools...
(…so that you UNDERSTAND what you're learning, instead of copying everything like a brain dead zombie.)
Think about it…when has copying EVER helped you actually LEARN something!
Did copying homework help you learn math? Nope.
Could you copy the way Michael Phelps swims, then swim like him? Most likely not.
We search around youtube, take lessons, jumping around from topic to topic, copying licks, copying voicings, reading sheet music or previous arranged jazz tunes and playing transcriptions…
…without ever knowing that these "traditional methods" of learning jazz by copying are the EXACT SHACKLES that never let us achieve our dream of sitting down at the piano, and just spontaneously playing and expressing what WE want. 
I did this for 15+ years and guess what…I NEVER reached my dream.
I didn't even get close!
Then one simple day, I made a discovery that transformed my playing forever.
And is currently transforming the playing of thousands of other students all over the world.
And the BEST news…you could be one of those people too!
The Jazz Piano School System™
The reason JPS has helped thousands of students achieve success at learning jazz piano is due to our systematic and structured learning approach.
Most common styles of jazz piano education have you copy, mimic or playback, different licks, transcriptions, voicings, and arrangements of standards.
This can lead to holes or gaps in your playing and hardly any self-expression freedom…not to mention frustration and self-doubt.
Jazz Piano School provides you with a different learning approach… Our learning system begins by teaching small jazz piano Theory tools that progress through categories. 
This is called a "THEORY SEQUENCE".
This ensures success and complete FREEDOM at jazz piano.
Here is what a "THEORY SEQUENCE" looks like!
The JPS System™ contained in the Main Course Curriculum uses "Theory Sequences" to teach you jazz piano freedom.
These "Theory Sequences" are based off proven language learning blocks. They're kinda like Legos.
"Theory Sequences" allow to quickly learn jazz piano tools, combine them however you want, (kinda like legos), so that you can FREELY express and most importantly, feel HAPPY while you play.
Instead of being handcuffed by copying arrangements, reading transcriptions, and infusing other peoples licks into your playing.
After 15+ years of pain & frustration I built the Main Course Curriculum so you wouldn't have to go through all the headaches, self-doubt, and searching that I went through.
Unlike many other online jazz piano sites, The Main Course is completely sequential.
Meaning every lesson builds upon the next through out 600+ videos.
It will take you from ANY level, (even if you know nothing about jazz piano) to a point in which you can sit down at any piano and freely self-express yourself through jazz with ease and feel happy.
.
The 3 Level Main Course Curriculum
You've tried to learn jazz piano but never really understood what was going on. You're VERY CONFUSED!
You're looking for a clear, structured, systematic, long term plan to transform your playing.
You don't understand why you can't make progress with books, dvd, youtube, and teachers and everything seems so hard.
You're a complete beginner and have taken a couple of piano lessons and want a sequential plan to start learning jazz piano efficiently and quickly.
You've taken years of classical lessons but now want to learn jazz piano and need a great place to start that will create a solid foundation and help you start playing quickly!
You never EXACTLY know what to practice or what you should be learning to improve your jazz piano skills.
You're frustrated with not having a road map to follow that will ensure consistent progress. You love the music but you feel like quitting. 
You enjoy organization and clear direction.
You've been studying with the same teacher, or other online jazz piano site for years and still feel lost.
You never completely understand what you're playing or how to connect the dots, even when learning from different educational resources.
All the lessons, and materials you learn from always JUMP around and differ in DIFFICULTY leading to no type of cohesive learning environment. 
You just want an EASY map and PLAN to follow and haven't been able to find it! If you can just get a road map you'll do the work because you love the music!
If you can relate to any of the statements above then you are PERFECT for the JPS Main Course Curriculum.
Here's What You Get Inside
600+ Lesson Videos On Any Device
(Two Keyboard View With Note Names)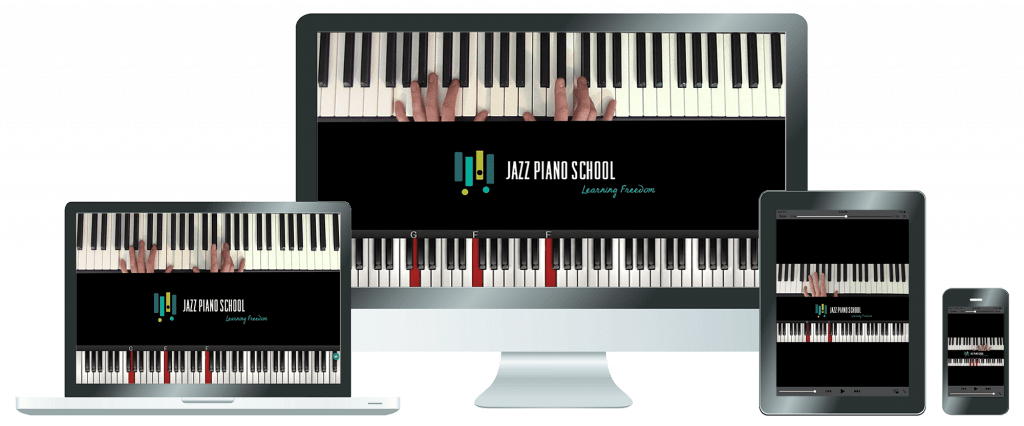 Step-By-Step Learning Throughout
(Absolutely no guessing at what to do next!)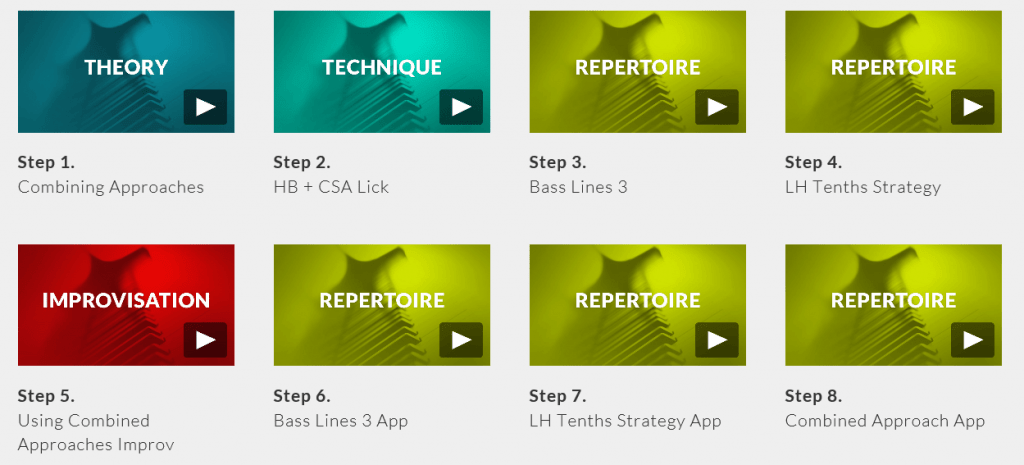 Lifetime 3 Level Access
(Designed For All Skill Levels)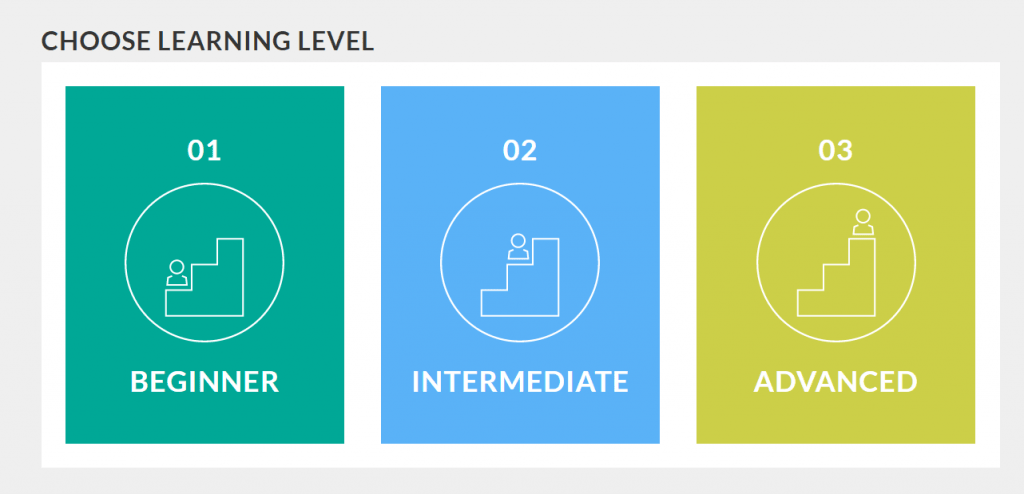 Journey or Library Learning Paths
(Follow our popular Journey Path or jump around)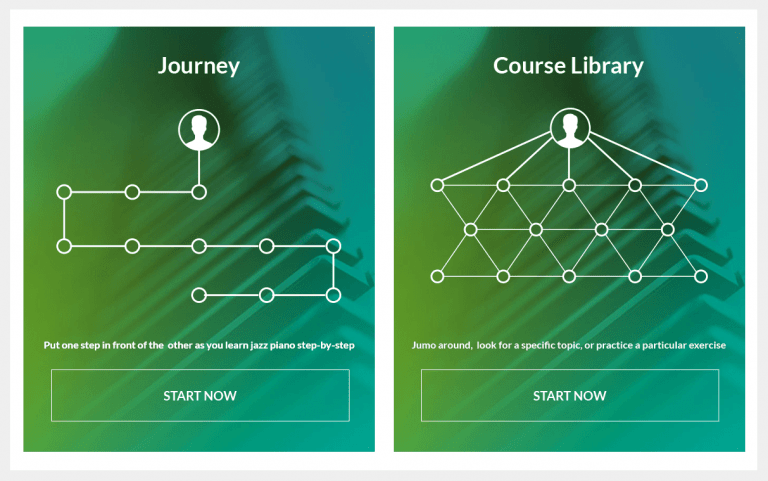 Over 3400 Practice Exercises
(Specific exercises for every step of the way)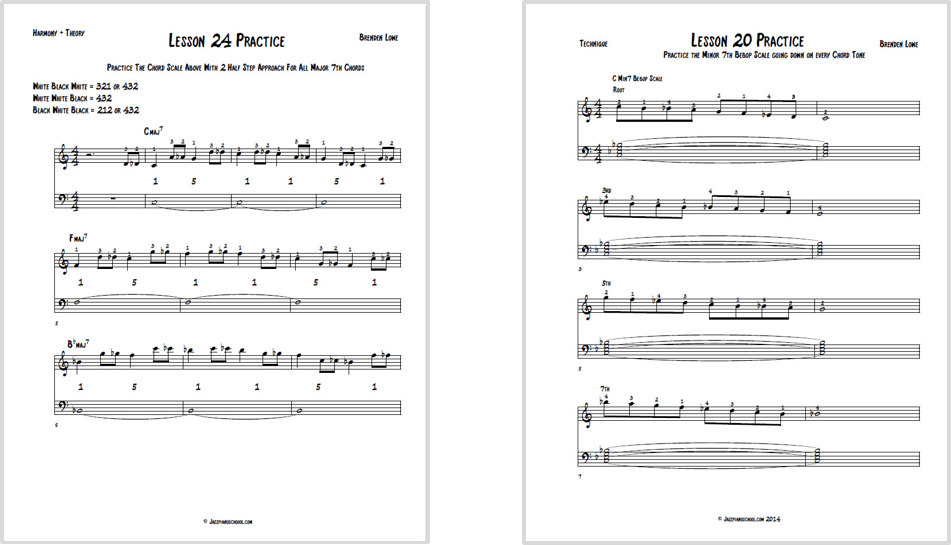 Over 640 Pages of Workbook Exercises
(Writing helps you learn 10x faster!)


Over 500 Pages of Lesson Text
(You can study and read about the concepts anywhere)
Private JPS Freedom Learner Community
(Get help, feedback, & support from other members!)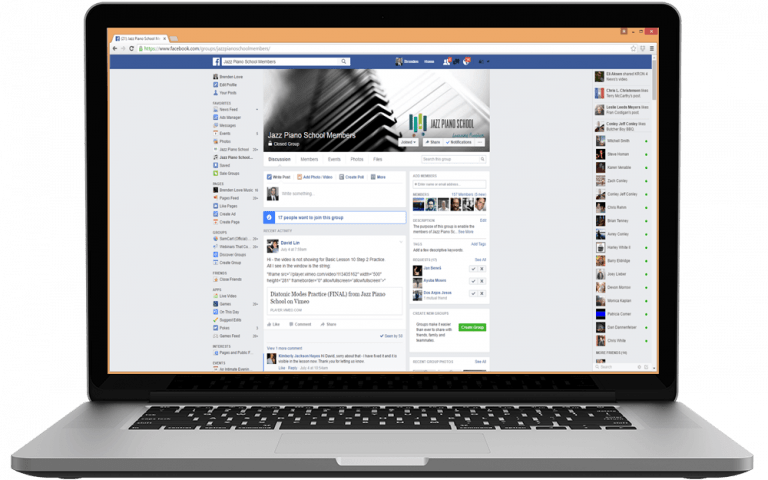 The Jazz Piano School Lab
Short precise, proven & tested jazz piano Mini-Courses. Built to give you quick results in less than a week!
We all want fast, easy, and effective results.
In this day and age, most of us only have the patience for 10 seconds…but all jokes aside…
With technology these days we want to improve at lightening fast speeds and that's exactly why we took all of our proven systems, strategies, and methods and turned them into what we call "Mini-Courses".
These Mini-Courses were built to educate you on all the nuts & bolts you need for any particular topic you could want.
Two hand voicings?
Use the "Two-hand Voicing Building System"
Need solo piano methods?
Use our "6 Must Know LH Solo Piano Components" to ramp up your playing.
These Mini-Courses are the core of the JPS Lab and will allow you to instantly upgrade any area of your playing you want.
The great thing is…we add new ones monthly!
The Mini-Courses are also best utilized in conjunction with our most popular service…The Main Course Curriculum.
Whether you're a beginner, or advanced player looking to improve specific areas of your playing…
…the Mini-Courses in the Lab is the down and dirty, no fluff no nonsense approach to get you improving faster than you can imagine. 
The Gig Analysis section of the lab will allow you to watch and learn exactly what the JPS staff is playing on their live gigs.
By studying the gig analysis you'll learn the secrets behind live playing, the thought process that will help you play with confidence, and different types of approaches you can take on your improvisation, comping and other specific categories.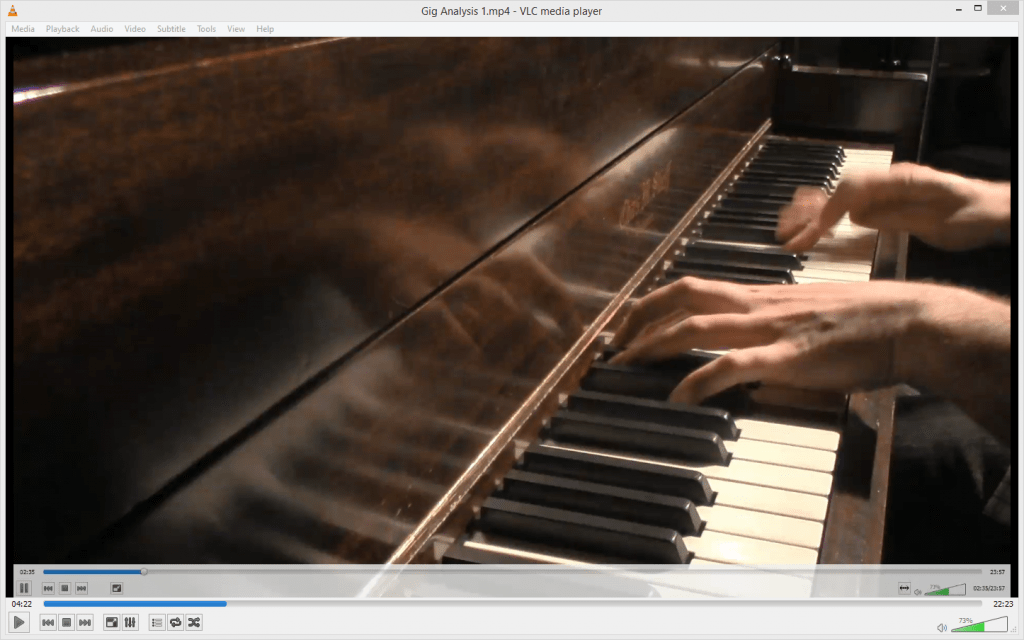 Jazz Piano School contains over 100+ podcast lessons that you can learn from on a daily basis discussing all different jazz piano topics. 
In the Lab you'll receive free access to all the practice materials so you can quickly and easily work through and topic of your choice in order to succeed!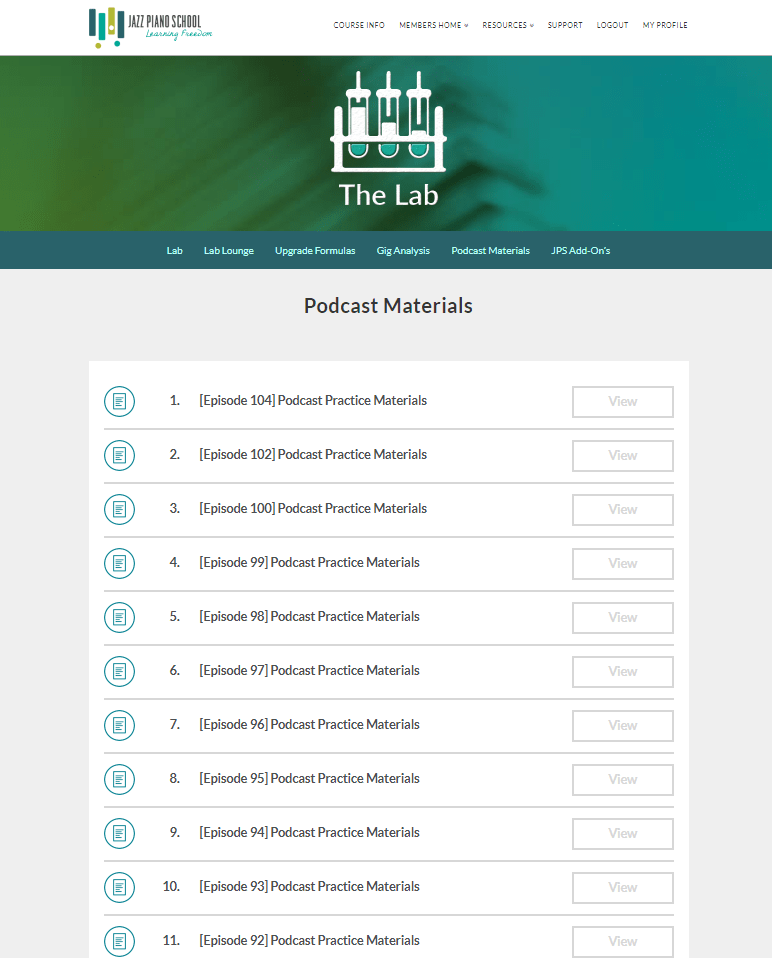 What Our Members Are Saying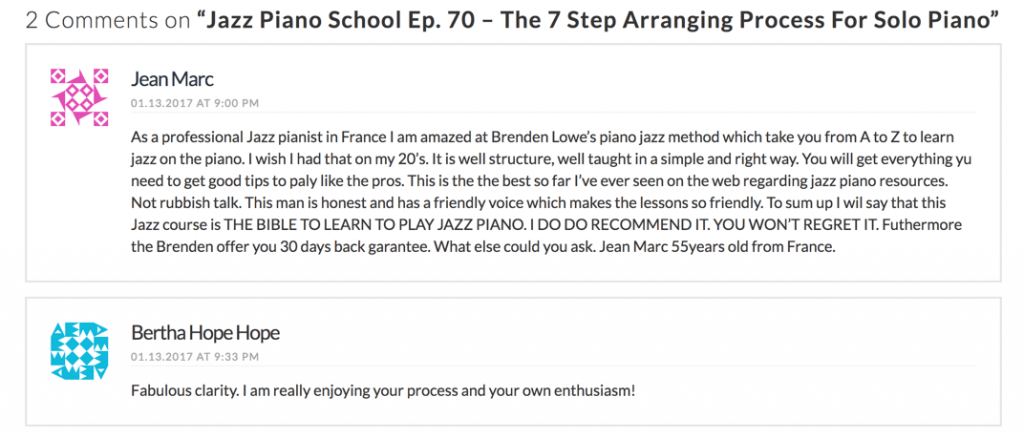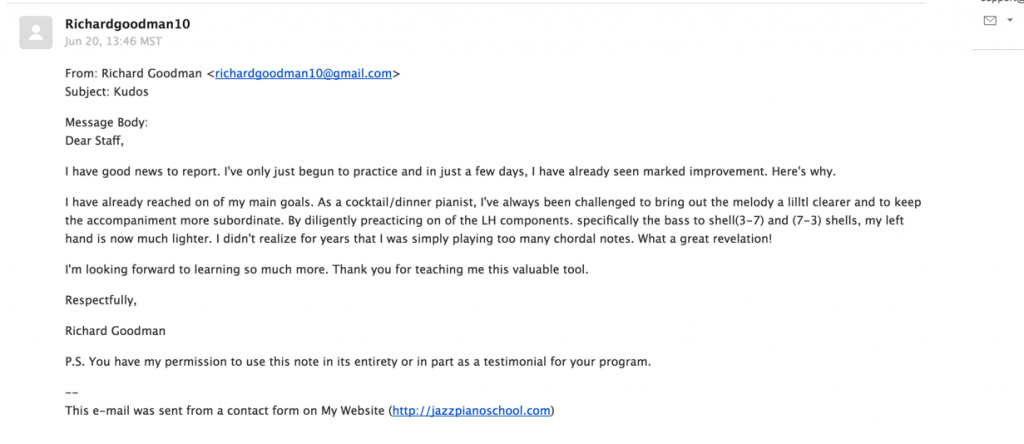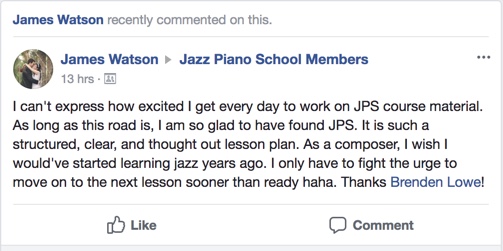 So...what would it be worth to you if...
In just 3 months from now you were sitting down at any piano of your choosing and spontaneously creating rich, lush, beautiful sounding jazz arrangements from your soul, rather than reading music.
You could finally have a valuable and time-leveraged sequential plan that allows you to achieve your jazz piano dream, share your music with your loved ones and strangers, and touch the lives of others.

You had 100% confidence in your ability to play in groups, jam sessions, and in front of other people because you no longer feel embarrassed, inadequate, and doubtful that people won't enjoy your playing.
You had every step (and I mean EVERY step) in the jazz piano process clearly laid out for you so that you never have to face the dreaded questions of "what do I do next?"…and instead could put your energy and focus into the task at hand. 
You could open up to any of your favorite jazz tunes and create amazing and beautiful arrangements on the spot without thinking, guessing, stumbling, or getting up from the piano in frustration. 
For once you felt happy, TRULY HAPPY, because you were actually able to let your soul express it's OWN SELF through the music of jazz like you've always imagined, instead of copying other people's playing and arrangements. 
You FINALLY accomplished your lifelong dream of playing jazz piano like you've always imagined.
That's the opportunity I want to give you today.
"This is by far the BEST online jazz piano course I've ever seen."
GET STARTED WITH
JPS PLUS TODAY!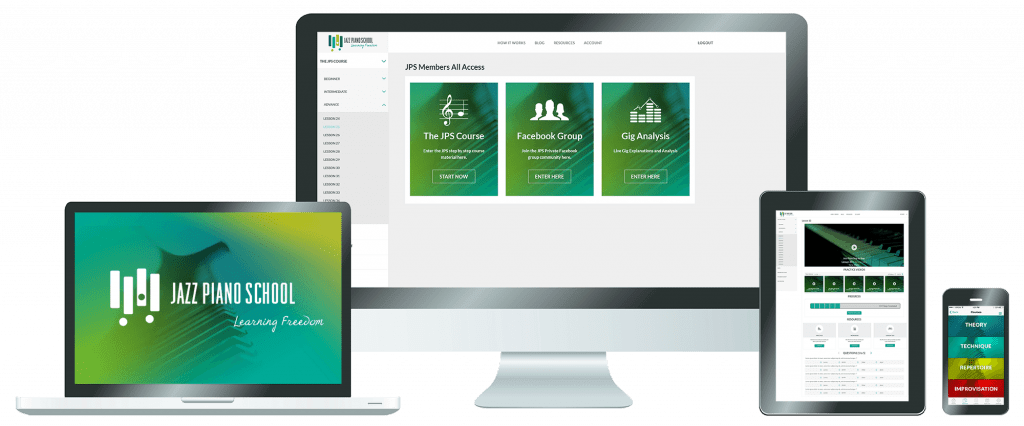 Full Access To The Main Course Curriculum & Lab Areas.
You'll get access to 600+ lesson videos, all three levels, two path options, and clear, precise, step-by-step learning in order to ensure you achieve jazz piano freedom.
Get Started Today For Just $67 A Month
NO Contracts, NO Commitment, Cancel Anytime with NO questions asked.
Your Privacy Is Our Number One Concern. Your Information Is Safe!
Hate monthly subscriptions?

30-DAY, FULL MONEY BACK GUARANTEE...ABSOLUTELY NO RISK ON YOU AND NO QUESTIONS ASKED!
At Jazz Piano School we have a FULL, 30-day money back guarantee. Our only mission is to help you achieve jazz piano freedom so if you are unsatisfied or unhappy in anyway, shape, or form, simply let us know and we will FULLY refund all of your money, no questions asked. 
BEFORE SAYING "YES! I'LL DO IT!"
Absolutely! Thousands are currently doing it and HAVE done it! We provide you with all the materials to get you from point A to point B with a structured and organized plan so you always know the path you're on to reach your dream.
Lifetime Elite includes all of the Specialty Courses we have available AS WELL as all of the Specialty Courses we will release in the future…all completely free. Essentially you get access to everything inside Jazz Piano School, AND everything to come.
Lifetime Basic is lifetime access to our Main Curriculum and Lab Area and NOT specialty courses. 
The private JPS Facebook group is filled with amazing jazz pianists who have worked through the entire course. They are eagerly helping new members every day! You can post your questions here and you will get all the help you need.
(Plus my staff and I answer questions there as well)
Also with the LIFETIME Support bonus, you can send questions in as much or as little as you want. For the rest of your life…seriously…no joke. 
The JPS Main Curriculum will serve you for the rest of your life.  Think of it as your "ULTIMATE" plan. 
Our goal is to implement the course into as many schools and institutions as possible in order to compliment the live teachers! 
If you have a teacher now it can be a fantastic resource to utilize and help guide you through the exercises your teacher is giving you. 
Or if you feel like you've been lacking direction & structure in your private lesson then the Main Course Curriculum can either give your teacher and you a plan to follow, or can replace your private lessons all together.
(Plus my staff and I answer questions there as well)
Also with the LIFETIME Support bonus, you can send questions in as much or as little as you want. For the rest of your life…seriously…no joke. 
The entire JPS course is very dense in order to build the strongest jazz pianist possible. It is a self paced course, meaning there is not a timeline. The more time you have to put in, the more you'll get out of it.
Each level was designed around a one lesson a week timeline. There ar 16 lessons in each level so theoretically you can finish one level in 4 months. 
We've seen people finish must faster as well with consistent practice! 🙂
The reason people don't learn is usually not because of time. Most of the time it's because they don't do it CONSISTENTLY. With only ten minutes a day you can make optimal progress from Jazz Piano School. 
Yes. Once you join Jazz Piano School, all of the practice exercises, workbook exercises, and lesson text is yours to keep forever! You can download the pdf's and view them however you'd like. 
Well actually…we do! You can post videos of your progress in our facebook group at any time and our trained staff will provide feedback on your playing and give you advice on what to do next!
The JPS System uses four categories. Theory, Technique, Improv & Repertoire. There is a big use for feedback in certain areas of the course…but…not all.
Students find that the systematic, educational process the Main Course takes them through actually allows them to digest the information in such bite sized chunks that they find themselves needing less feedback because they're able to accomplish the steps on their own and actually execute. 
But of course…again when you are looking for feedback, all of Freedom Learners within Jazz Piano School will post videos of their playing into our private community or to our help desk to get feedback from our professional jazz piano staff!
GET STARTED WITH
JPS PLUS TODAY!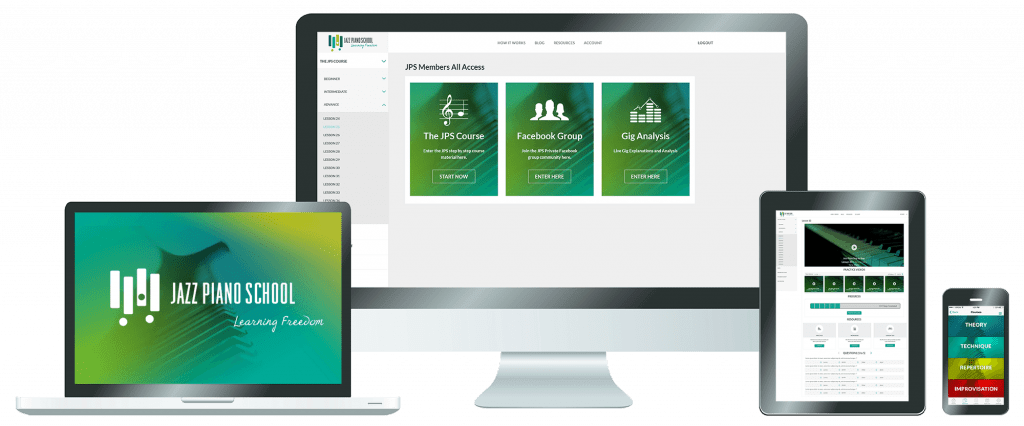 Full Access To The Main Course Curriculum & Lab Areas.
You'll get access to 600+ lesson videos, all three levels, two path options, and clear, precise, step-by-step learning in order to ensure you achieve jazz piano freedom.
Get Started Today For Just $67 A Month
NO Contracts, NO Commitment, Cancel Anytime with NO questions asked.
Your Privacy Is Our Number One Concern. Your Information Is Safe!
Hate monthly subscriptions?